Email: judith@judithcarbine.com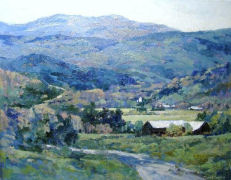 The roots of my thirty years as a painter can be found in my childhood and youth growing up on a dairy farm in Vermont, in piano and organ study beginning at an early age and continuing through college, and in creative projects for church and school. The significance of my experiences living in the Green Mountains, and as a musician, is an integral part of my identity with the subjects I paint.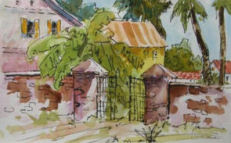 I discovered early the work of the American and European impressionists. Their use of color, light, and brushwork, and their need to capture specific moments in time and space is most appealing to me as a painter.
I have studied with many artists; among them are Frank Webb, Milford Zornes, Henry Fukuhara, Harry Dayton, Don Andrews, and Charles Sovek. These artists, and my study of the impressionists, have given me a vocabulary for painting a picture. This allows me a means for personal interpretation of a subject. Frank Webb has noted the work of American watercolorist, Ed Whitney, who said that painters are entertainers, shape makers, and symbol collectors.
I believe what Degas said about painting: ďA painting should always be a product of the artistís imagination. It should never be a copy.Ē
JUDITH C CARBINE 2010
Resume | Online Gallery | Representing Galleries | Contact the artist
Website Copyright © 2004, 2010 Judith C. Carbine, All rights reserved.
Artwork Copyright Judith C. Carbine.
Use without written permission is prohibited.
Website Last Revised: October 23, 2010